Kathleen Webber and Kim Pearson
Abstract: Instructors in journalism programs in this period of evolution are searching for ways to strengthen and apply students' skills in multimedia writing and content production. They are also looking for opportunities to engage students in problem-solving in their local communities, using what they have learned in the classroom. A municipal election posed a chance to create a voter education website that would benefit various stakeholders in the nearby urban community. Working with a community group, instructors and students set goals for a multimedia website to inform and entice voters to participate in the 2014 Trenton mayoral election. The two-semester, year-long project included the work of 120 students at different skill levels and no previous in-depth knowledge of the city's history, current challenges, or of municipal elections. The course taught students to consider the history of the city, learn about the issues it faced, and to explore the role of media in stimulating community involvement. They developed critical thinking skills, learned about user-centered design principles, collaborated with students of different majors to tell digital stories, and decided how to best inform voters through the content they produced for this WordPress site. At the end of the course, students reported higher levels of interest in their community and in real-world projects with deadlines as well as projects that would have a life after the semester's end.
---
Introduction
To best prepare undergraduates for careers in journalism, we continue to retool our curriculum to include courses that will incorporate opportunities to practice and produce multimedia content and to work with editors and clients on producing a publishable body of work.
As educators we must also stay current on the marketable skills needed to enter not only journalism but also the related fields of public relations, social media and communications. We have found it helpful in the past to find and pair with community organizations that might benefit from our skills. These opportunities to work on local stories and projects also help the community by filling a need that professional journalists and content producers alone cannot fill.
While working on local stories, students come to realize their storytelling can help empower a community, highlighting issues or agents of change often not given extensive exposure in traditional media.
Unlike traditional forms of journalism, publicly oriented newsmaking explicitly encourages young people to participate in community life. Supported by a directed curriculum and reflection, student journalists go out into their neighborhoods and talk to people actively engaged in social and political networks. Then the students construct a problem-solving dialogue with readers, writing stories that focus on issues that affect people's daily lives. (Novek, 1999, p. 145)
This article describes the design and execution of a yearlong community-based public journalism project across several sections of a single course, over the course of a full academic year.
Background
In July 2013, members of a nonpartisan civic group in Trenton, NJ, called Beautiful Trenton engaged in an online discussion about ways of using technology to get more city residents involved in addressing community problems and in participating in the forthcoming May 2014 Trenton municipal elections. One of the authors participated in the discussion and suggested that students from The College of New Jersey might assist by building an informative website for the elections. In subsequent discussions, the authors and leading members of Beautiful Trenton worked out a plan to create the website, with social media extensions, over the course of the academic year.
Beautiful Trenton (2015) was started in 2009 and is a "movement engaging diverse and committed Trenton residents to envision the future of the city, articulate this vision, educate the voting public about the issues, and encourage candidates and decision-makers to commit to progressive solutions" (para. 1). What was disconcerting to the group and to many concerned citizens of the city was the degree of voter apathy in Trenton. Voter turnout in the 2010 election was less than 30%. The organization's hope was, with a comprehensive election website, voters could gain access to content that would augment newspaper and broadcast accounts and get them interested in voting in an informed way. According to a 2010 Pew Research Center for the People and the Press Study, 44% of Americans get their news from one or more internet or mobile digital sources. We decided that an online, responsive WordPress site could be read from a laptop, desktop or mobile phone, and we created such a site.
The project was built around our Writing for Interactive Multimedia course, a 100- to 200- level cross-listed course required for majors in Journalism and Professional Writing and Interactive Multimedia at The College of New Jersey. Others who take the course as an elective include Communications, Business and Liberal Arts majors. The students range from freshmen to seniors and are at all competency levels in terms of their writing and digital skills.
The course was tailored to meet the goals set out for both majors and included writing on deadline for online media, using concepts in search engine optimization, collaboration with classmates, critical thinking, project planning, and the use of social media to promote content.
The project was designed to feed into a broader goal of the college—to get students engaged in the surrounding community. Part of the college's mission is "to be a national exemplar in the education of those who seek to sustain and advance the communities in which they live." (The College of New Jersey, n.d., para. 1) In addition to students being required to fulfill a community engaged learning course before graduation, many students at the college are Bonner Institute scholars, volunteering many hours at local organizations in exchange for scholarship money.
The Bonner Institute for Civic and Community Engagement at The College of New Jersey finds mission-consistent ways to improve the quality of life for all in our surrounding communities. It cultivates the common ground that exists between the educational mission of the College and the needs of non-profit organizations and neighborhoods; it does so by creating teaching and learning opportunities that simultaneously build the capacity of TCNJ students and these groups and communities. (Bonner Institute for Civic and Community Engagement, n.d., para. 1)
At the beginning of the Fall 2013 semester, we quickly learned through class discussion that many students knew little about Trenton as a city even though the school is situated five miles from the city limits and was, at one time, named Trenton State College. There is a great disparity between the makeup of the student population and that of the city of Trenton. The most recent institutional research shows that 93% of TCNJ students are from New Jersey, with the remaining students coming from New York, Pennsylvania and other Northeastern and Mid-Atlantic States. As of the fall of 2012, 66% of full-time students were White, 11% Hispanic, 9% Asian, and 5% African American (The College of New Jersey Center for Institutional Effectiveness, 2012). The most recent data for the city of Trenton (2010) from the United States Census reveals 27% of residents are White, 52% are African American or Black, 34% are Hispanic and 1% are Asian. The college administration supported a course that would have students working for an entire year on a project that would have a potentially positive effect on the community.
Service-learning initiatives in journalism and mass communication courses have been focused largely on public relations curricula. However, in recent years, more journalism programs have put students to work in a more active fashion in the communities in which they go to school, producing print, video and digital content. One such program is Temple University's MURL program (Multimedia Urban Reporting Lab) where students produce an online publication called Philadelphia Neighborhoods.
Students experience news gathering, production and dissemination of news in a converged media environment, where they can experiment with new ways of telling stories. The goal of the publication is to cover the underserved and underreported local communities in the city. Other journalism schools, including those at Berkeley and the City University of New York, have been pursuing such 'hyperlocal' reporting, sending students into diverse neighborhoods to report on the day-to-day news that shrinking mainstream newspapers don't cover. (Mangan, 2009, para. 25)
Mensing (2010) suggests that schools take a second look at how they teach journalism courses "considering an alternative to the transmission-driven, industry-conceived model of journalism. Moving the focus of attention from the industry to the community could reconnect journalism with its democratic roots and take advantage of new forms of news creation, production, editing and distribution" (p. 512).
The main goal of our course was to use the practice of civic journalism to teach students how to better their community through research, reporting and content production. Novek notes the benefits of students learning more about local issues and that
by studying local concerns and reporting on them to a committed local audience, students gain new perspectives on civic responsibility and engage in dialogue about remedies or solutions that may actually improve the quality of local life. This approach departs from traditional modes of journalism that stress the value of detached observation and official sources in favor of an advocacy model that values the expertise of local residents. It also differs from many forms of service learning, where students are placed to work in service organizations. Students in a course like this contribute to the common good by gathering information about local concerns and seeking their solutions. (Novek, 1999, p. 152)
The other benefit of this practical course was working with a client and on a team, capitalizing on student strengths for tasks and building new skills through classroom learning and collaboration. Each week, as students came up with new ideas for content, groups met and assessed which group member would be best able to perform a task based on his/her skill level.
In the course, instructors acted in the capacity of managing editors/editors in chief, gathering weekly input and feedback from the client (the community group) and relaying that information to the students, drawing up weekly tasks, prioritizing and assigning them to the appropriate groups.
When educators act as liaisons between the classroom and the business world, students have the opportunity to apply their classroom knowledge in business situations. These projects increase opportunities for problem solving, critical reasoning, and adaptability in diverse organizations—skills required for successful business careers. (Addams et al., 2010, p. 283)
One of the biggest challenges was asking the students to think about what multimedia content would draw them to the site and engage their interest. How could they entice the reader through a photo, infographic, story or video to hear more about the election and the issues surrounding it? Whether the student was training to be a professional journalist, PR professional or game designer, skills in critical thinking, problem solving and communications were used at each step of the planning and execution phases of the project. Smith Taylor (2006) notes that "(t)he client-based writing course simulates a workplace context with emphasis on working as a team, satisfying the client and enacting manager-employee relations between faculty and students" (p. 112).
Our mission was to design an entire course around a community project, in this case a voter education website, and still reach the communication goals of the class. Could students produce the site, drive engagement and learn and practice new digital skills with such a project? As Mensing notes, the obstacles we faced were both conceptual and practical: "The challenge for educators is how to provide these types of opportunities within a classroom setting in a limited time frame. Producing a story independently for an unspecified audience is far different from collaboration with known publics over time. Embedding students within communities is one way to structure the kind of learning they will need to be successful in the future" (Mensing, 2010, p. 518).
Course Development
In the development of the course over the summer, we met with several members of the civic group to map out how this project could meet both our course goals and their community-based needs. The instructors agreed that the fall semester classes would focus on developing prototype websites and design documents, and the spring semester classes would create the final site, along with a social media presence and strategy. The syllabi were created with these client needs and pedagogical goals in mind. We broke our learning goals and outcomes into three categories:
Content goals: Research, plan and write a proposal for a functioning website, taking into account audience and client needs and goals. Write and design content on candidates. Identify the city's most pressing issues. Develop service-oriented voting information. Write clear, concise, unbiased copy using search-engine-optimization tips learned in class. Produce audio and visual content that would best engage readers in the election and present content in a logical manner using the principles of user-centered design, making the site easy to understand and navigate. Give a voice to residents through articles and commenting opportunities on the site and through social media.
Oral and digital skills: Present site proposal information to classmates orally. Promote the copy through social media. Use simple HTML skills to help with copy design and SEO. Learn to create and post to a WordPress content management system. Include photos and video of voters explaining their wants in a new mayor. (These images resided on the site and on social media such as Twitter, Facebook and Instagram.)
Behavioral goals: Collaborate with others to learn or strengthen skills from fellow classmates. How to delegate tasks to team members. How to work as a team to problem solve in order to meet goals and deadlines. How to take feedback from a client and alter project plans accordingly. How to champion a task or take one over from a teammate. How to try new things and take responsibility for learning.
Course history
The course over the years has been through many incarnations and is required by two majors at the school. Writing for Interactive Multimedia introduces students to a design thinking approach to creating content across media platforms. It has been part of the previously named Introduction to Professional Writing, and it was one of two applied rhetoric courses developed for the English Department's Journalism/Professional Writing major in the early 1980s. Introduction to Professional Writing was a required course for the major and the Professional Writing minor, and remains so today, but the class has gone through a number of iterations in the past 30 years. In the original incarnation of the course, a series of practitioners presented guest lectures on proposal writing, press releases, brochure writing and similar activities. In 1990, the course was redesigned so that students carried out these activities on behalf of real clients. A culminating activity was also added in which students had to come up with a business idea, write a simple business plan with financial data, and create and deliver a marketing presentation. In 1997, that activity was replaced with instruction in HTML and the requirement to build a portfolio website. In 2002, the course became a requirement for the newly formed Interactive Multimedia major and minor. We run 5-6 sections of the class each year, with enrollments split about evenly between JPW and IMM students.
During the 2013-14 school year, we were again running five sections of the class, with Webber teaching two sections each semester and Pearson teaching one section in the fall. Each section had a maximum enrollment of 24 students. Thus, the challenge was to conceive the project with Beautiful Trenton in a way that provided meaningful work for 120 students, while simultaneously meeting the clients' goals. We also wanted to find ways for students to engage directly with the members of Beautiful Trenton without overwhelming them.
The authors met during the summer of 2013 to set common objectives and an overall timeline for the year's work. In the first semester of the course, students self assessed skills they could contribute to the project using PBworks as a cross-class collaboration tool and a Memex site as a repository for class writings.
What we hoped to deliver at the end of the semester was a website that informed and educated the voting-age population of Trenton, and a social media initiative that would attract new readers whom we hoped would make informed votes in the election. Assignments were based on these goals.
Course implementation in Fall 2013
Because definitive mayoral and city council candidates for the race would not be determined until the middle of the spring semester of the course, we decided to use the first semester to develop sample websites with sample content and design options to present to the client. This offered an opportunity to expose students to the design-thinking process. We first had students perform a skills inventory so they could share with their group members what they had to offer to the project. Skills included writing and editing, HTML and CSS, video production and editing, and graphic design. Professors assigned students to groups of 4-5 comprised ultimately and equally of Journalism majors and Interactive Multimedia majors. The teams used a wiki to report on their progress each week.
Before planning content and setting up the site, it was important to talk about the city's history, how municipal elections work, how the city is governed, and who our readers were, so students would know how best to write engaging content. To learn more about our potential readers, we first looked at Census data and where we thought readers got their news. The city has two print publications and both have online versions. One is a broadsheet, The Times of Trenton, which serves Trenton and parts of Mercer County. The other publication, The Trentonian, is a tabloid with sensational headlines and short, simply written stories. We searched to see how many stories had been written about past and present elections, and what their content was like. Students also took an informal poll on campus. Many staff members live in Trenton and the students learned that more of them got their news from The Trentonian. We discussed the implications of this feedback for our content strategy, and decided that we needed to come up with sites that were highly visual and accessible at a sixth-grade reading level, as measured by the Flesch scale.
In the beginning of the school year, staff members knew little about who was planning on running for mayor. Many also said they were disillusioned about the political process, expressing disappointment about the incumbent mayor, Tony Mack, who was at that time under federal indictment for corruption. (He has since been convicted.) Police officers had been laid off during the Mack administration, and it seemed as if each day brought a new story about someone being shot to death. The physical deterioration of the schools and the declining quality of the curriculum were also frequently cited as sources of concern. Finally, staff members worried about the fact that the city had been hemorrhaging jobs for years. It became clear that the challenge facing Beautiful Trenton was not merely ensuring that Trenton citizens knew what they needed to know to be able to vote, but also finding ways to help them believe that voting could help turn around their struggling city.
Students were instructed to set up a Google Alert for news about the mayoral and city council elections. They were also instructed to subscribe to the Trenton Elections Facebook page, a creation of one of the members of Beautiful Trenton. We viewed our project as complementing this effort. These news updates were discussed in each section of this three-hour, once-per-week course that met in a multimedia lab. We also studied political sites like votesmart.org, politickernj.com, The Citizens Campaign, the Committee of Seventy, and decidenyc.com. Students also read sites operated by the League of Women Voters, the local NAACP, the Trenton Historical Society and local bloggers to learn more about the history of the city and its leadership, voting processes and issues.
To better prepare students to work on the website, representatives from Beautiful Trenton visited in the fall semester and talked about needs, mission and pertinent facts students should consider when coming up with content ideas for the site. The information was shared with other sections via the instructor. Their ultimate goal was to have an informative, unbiased and comprehensive site for voters to find out about the election, candidates and the issues. After we reviewed the client's needs, students wrote their design proposals and sketched website wireframes. The design proposals included an audience analysis and content categories, sample content ideas and ideas for social media. A blogging portal was set up so the groups, each assembled to give the best range of skills, could work on their own sites and show how they would present the information they gathered.
Students then started researching information on candidates, issues and voter information and researching voter information for a voter map. Each team presented its ideas in a slideshow, using either PowerPoint or Prezi, and made a site incorporating their design and content. In most instances, the teams used WordPress; however, one class section ultimately produced a hard-coded site in HTML to accommodate a quiz that had been created using PHP. They also produced short videos for the site about a topic relating to the election. The prototype sites, along with some of the presentations and design documents, can be seen here:
http://pearson.immtcnj.com/IMM140/homepage.html
http://memex.immtcnj.com/imm14003fall2013/trenton-elections-voter-education-project/
http://memex.immtcnj.com/imm14002fall2013group3/
http://memex.immtcnj.com/imm14001fall2013group3/
http://memex.immtcnj.com/imm14001fall2013group4/
Screenshots: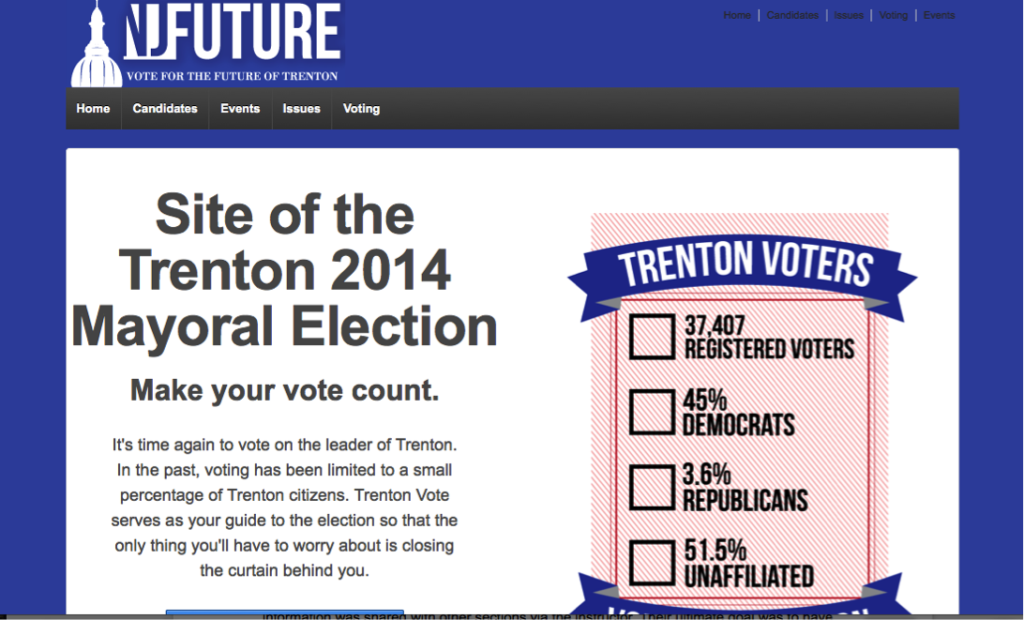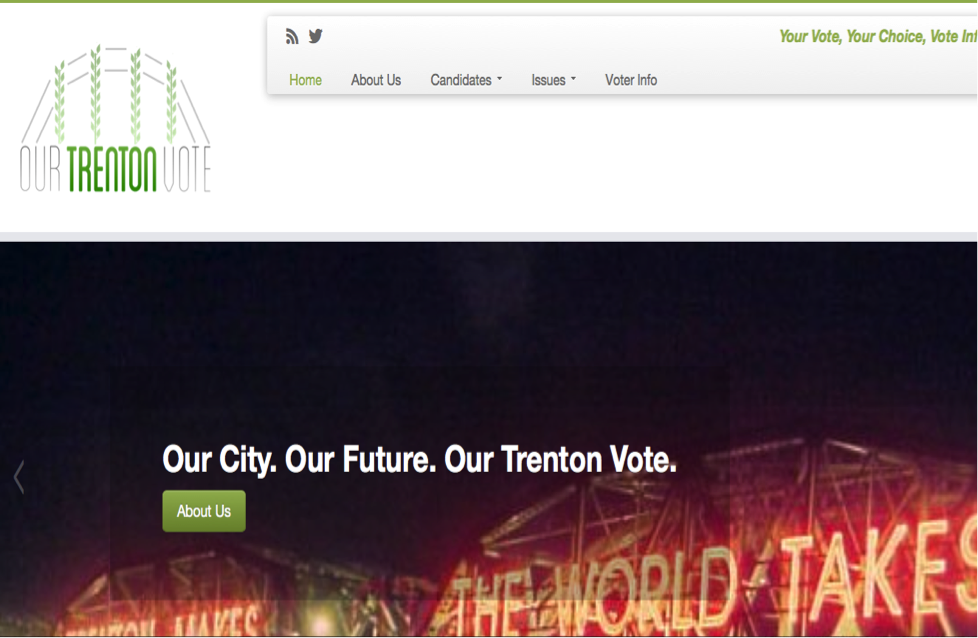 Each group had to produce a two-minute video for its site and take photos in the city, or use ones the students found that would enhance their copy. They set up Twitter accounts for their site, teasing content as it went up. They also made suggestions for sustaining such a site in their final presentations which included challenges, accomplishments and contributions. Some students contributed much more than others, and the challenge was assessing and grading each student in the group.
Each group had a team leader who managed work flow. When students posted new content and the client felt it was not exactly right for the site, students took the feedback and quickly met with their teams to edit content that better fit the criteria. Because coverage was to be unbiased, we gave each candidate "equal time." Biographies needed to be in the same format and approximately the same length. We would constantly ask students what would the end users want when they were coming to this site? All of our design and content decisions were based on this user design and audience-centered content premise. These weekly and sometimes bi-weekly updates from the client resulted in a classroom that was ever-changing based on client feedback.
There were many accomplishments. Students reported that they learned about Trenton and became concerned for the welfare of their capital city. Some also spoke positively about acquiring new editing, technical and design skills and putting them to use. These new skills included HTML coding, working with Google maps (to display polling places), and testing content for usability. Some got to employ existing skills in unanticipated ways—for example, one music major composed original music for her team's video.
Challenges of the first semester
Some candidates were not interested in speaking with students because they felt it was too early to get their message out to voters. This was frustrating and led students to write copy based only on information found through social media sites and online biographies. We were unable to incorporate the PHP quiz into the site because of the technical limitations of WordPress and the fact that most of the students did not have that level of coding skill. Students were not as excited to work on this project knowing the sites were not going live. Many students didn't have cars and getting them into the city to film videos or take photos was difficult. Because of that, in the second semester we decided to provide a one-time-only van to visit the city with the entire class to collect interviews, photos and video.
Spring 2014 semester
In this semester, we offered two sections of the course, both taught by the same professor. With sample sites as a template, the client bought a domain name and paid for hosting, and the new crop of students was re-schooled on the history of Trenton, the problems plaguing the city and what was at stake in this election. Forty-four students over two sections broke up into task groups based on their areas of expertise. Students signed up for groups including Social Media, Interactive Multimedia, Calendar Group, City Council Group, Mayoral Candidate Group, Voter Information and Issues Group.
Students studied the sample sites for existing content we could use that would go live in March. It took half of the semester before we could confirm which candidates had fulfilled the city clerk's requirements to have their names on the ballot. It was also halfway through the semester before mayoral forums were being held, and we could promote events at which candidates would be speaking. Each week, the client would review new content on the site and would ask for additions or changes, or suggest new ideas. The instructor fielded these emails during the week and, depending on the urgency in nature, delegated the task immediately or made a to-do list for the class. Students signed up for tasks to be completed within that class time.
Reporting in the city
There seemed to be more interest in this project in the second semester because the students' work would be seen and read and there would be an opportunity for us to gauge reader engagement. However, there was not any real excitement about going to Trenton to do on-the-street reporting outside of class time unless it was a class requirement. The barriers to reporting were two-fold: a fear of traveling to the city based on its reputation for being crime-riddled, and transportation and scheduling issues. Because of this, some students did reporting on campus, interviewing many of our staff workers who reside in Trenton. Their blog pieces centered on the issues important to the staffers, such as safer streets and after-school programs for children. While it was challenging to get students to attend mayoral forums, others went to the city on their own time to do reporting. To ensure all students had the opportunity to do on-the-street reporting in the city, college-owned vans were borrowed to travel there during class time. Each section made a three-hour trip, approaching business people and citizens about their interest in the election, who they might vote for, issues that were important to them and what they wanted candidates to do once in office.
Before they boarded the vans, a staff member at the college spoke to students about where they could go to find the information they were looking for in the neighborhood, where we would travel or whom to call for interviews when they returned to campus. Students brought phone cameras, DSLRs, video cameras and recorders. What they found were many residents disgusted or apathetic about the current state of affairs in the city, with many not optimistic that things would change. These person-on-the-street interviews were dependent upon sources being available during typical business hours. Other students did reporting over the phone or in person on their own time for articles they contributed to the site.
Additional reporting on the issues
At a mayoral forum, the professor and students took notes about issues important to residents and the candidates' stance on them. Based on those notes, article ideas were generated and the client helped with sources for these pieces. The stories resided on the blog portion of the site. Students wrote about the abandoned-housing problem, vital after-school programs available to residents, the importance of voting for city council, what city council does, programs focused on the beautification of the city, transparency in government, and the crime problem and how to solve it. We also tracked down a former long-term mayor to weigh in on what he thought the next mayor should do once elected. One student tackled this article and when the first draft didn't stay close enough to the theme of the piece—what should the next mayor do for the city given its current issues—the student went back to do an additional interview with the former mayor. The edited piece garnered the most views on social media.
We also instructed students to curate content about the election from local news sources; this as well as new content we produced were teased on social media (Facebook and Twitter). Students employed techniques learned in a class lecture about headline writing and SEO for these posts. Some examples: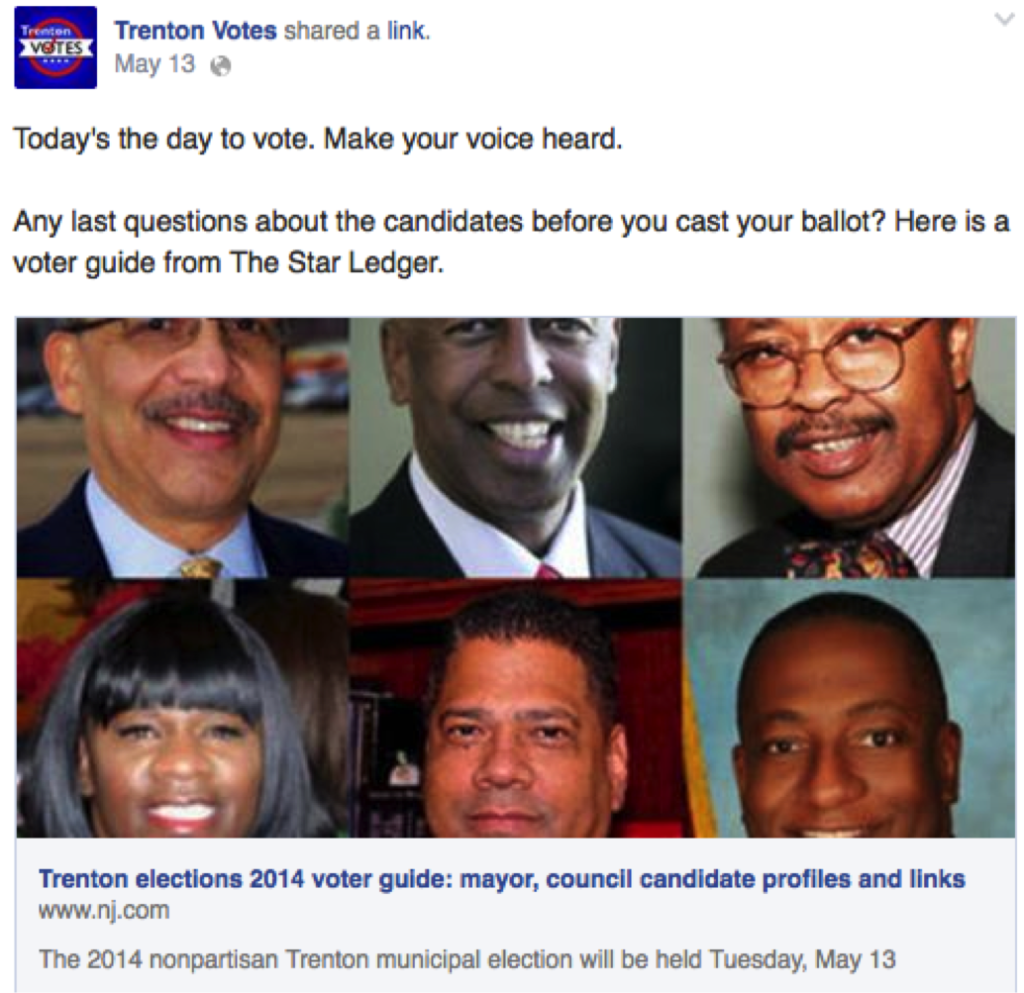 An infographic that a graphic design major created garnered the most views: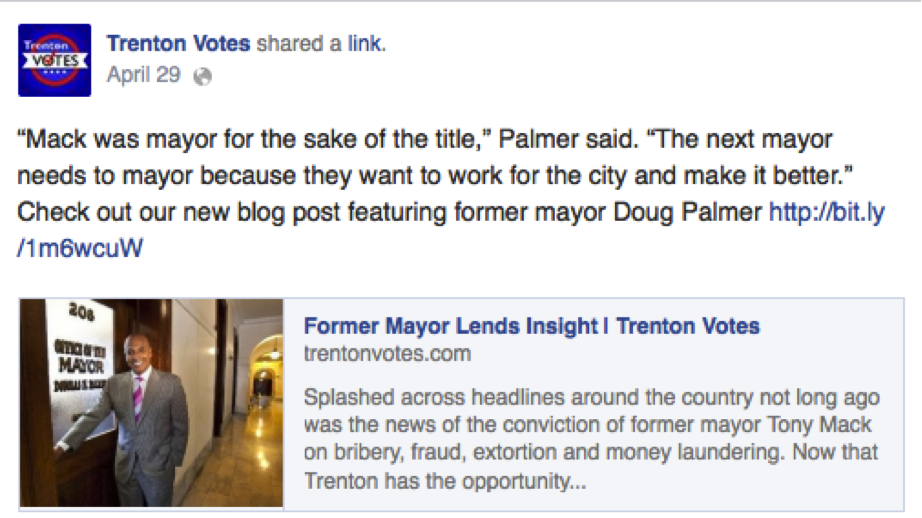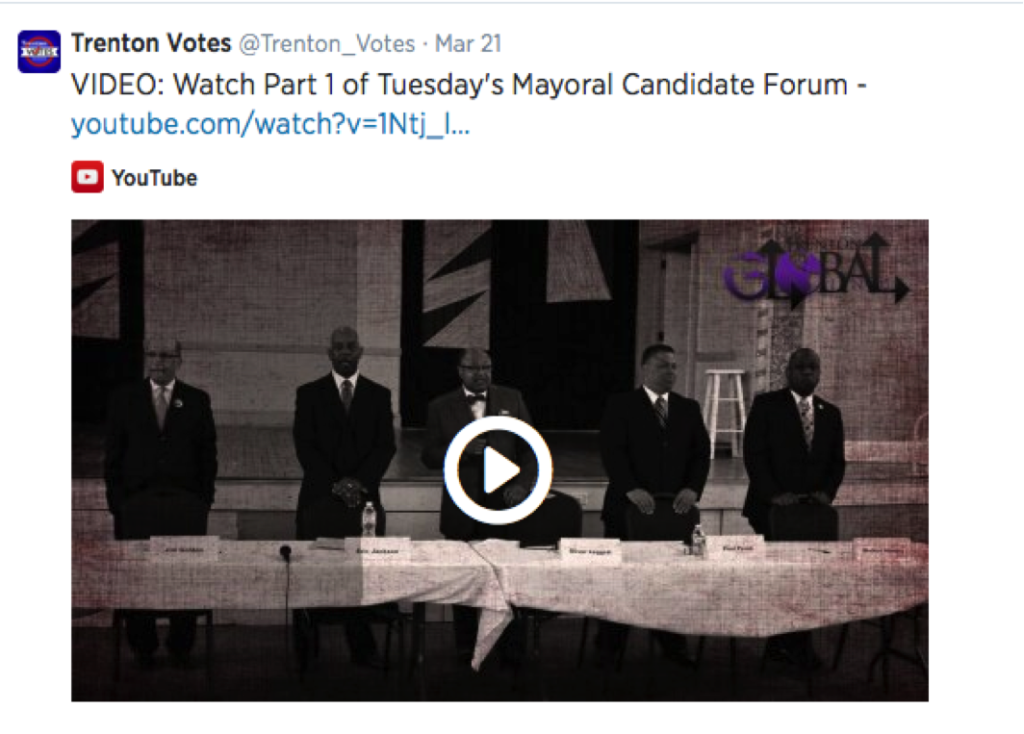 Findings
The finished website included mayoral and city council candidate information and platforms, a list and explanation of the issues affecting the city, specifics and deadlines for registration and polling place information, a calendar, and promotion of events and news about the election as it unfolded. The site could be used as a template for future municipal elections.
Student evaluation
Students were evaluated in two ways on this project. They were expected at the end of the semester to present to the class their specific contributions to the Trenton Votes site along with screenshots of their work. They had to explain how they used their communication skills to better the site and how they worked in collaboration with the other group members. The presentation included any challenges they faced in the semester and suggestions for maintaining the site after the semester was over.
Some of the questions students had to answer: As a communicator for a professional site, what did you learn about catering your messages to the audience and their needs? What did you learn about Trenton and its history, municipal elections and the challenges it faces moving forward? What does it mean to be a professional communicator in your chosen field and what can you use from this class to be a better communicator?
Discussion
What worked: The project was successful from a standpoint of reaching writing goals and community engaged learning. Students learned more about the city; what happens to a city when industry declines or leaves; what plagued the city and possible solutions to these problems; how municipal government worked; and the importance of residents getting involved in the community in which they live, which includes voting. They enjoyed telling stories about hopeful citizens, or those who were working for nonprofits trying to better the city. At least one student went on to a summer internship with the College's TrentonWorks project, where she worked on an app for reporting broken streetlights and other technologies for improving the quality of life in the community.
What needed improvement:  Website traffic was low and efforts to publicize the site in local print media were not strong enough. In the first semester, one story about the project ran in The Times of Trenton before the site went live. In hindsight, a story appearing during the second semester, when we wanted to attract readers, would have been more helpful. If time had permitted, all of our blog content could have had videos or visuals to accompany stories. The goal of getting more voters to the polls was not reached but after the project was completed the client pointed to other elections to compare with Trenton's poor voter turnout.
In an email, Stephen Slusher of Beautiful Trenton wrote:
The turnout is poor, but Newark, with only two mayoral candidates presenting a fairly strong contrast, only had turnout of 27.8% on the same day. Turnout is usually poor in municipal elections; in Los Angeles, for example, in the 2013 mayoral runoff the turnout was 23%. I think turnout is about what is to be expected. Probably the only way to significantly increase turnout is to move the nonpartisan municipal elections to the same date as the general election. (personal communication, May 19, 2014)
Our promotion of the site through social media had a limited window and attempts to promote it by pitching local media fell short. Media coverage likely would have boosted the number of visitors to the site.
Here are the Google analytics for the site, which show low readership.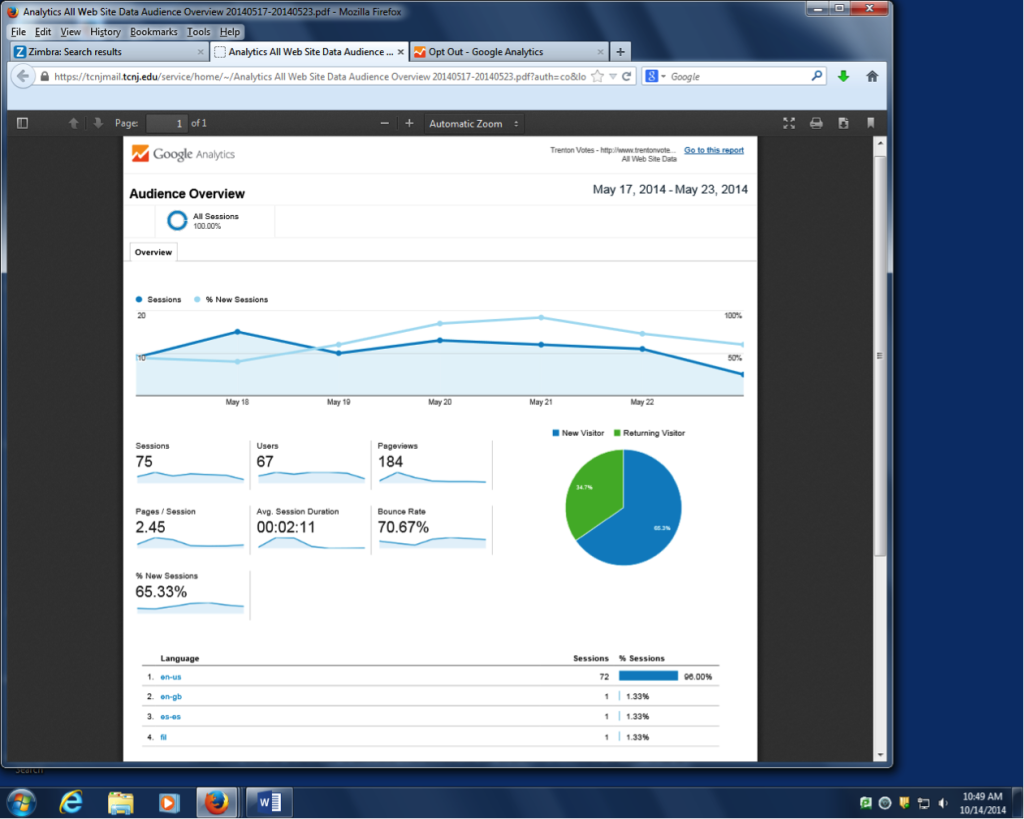 Challenges for the instructors
It was time consuming for the instructor to monitor the site, review content after each class session, and speak with the client regularly to make sure their needs were met. In the future, perhaps a managing editor for each section of the course could be the point person to speak with the client about content. There is significant time spent before the semester planning the course so it benefits the client and student. In the second semester, a video project was not required, and Interactive Multimedia majors in the Multimedia Group struggled to come up with and create engaging multimedia content. The instructor felt, after the fact, that there were too many students in this group, and while some students took initiative to produce more content, others did not.
If time had permitted, working on more investigative pieces would have been a way to provide useful information to voters. For example, one group, the Citizen's Campaign, came in to speak to us about campaign finance and what could be gleaned from knowing who donates to candidates and what their motives might be. That would have made for a good story. And, on our Facebook page, a city resident and activist suggested probing how candidates had voted if they had served as city council members. This would have taken several weeks of research and the help of a librarian assigned to the students. Would they have been able to tackle more probing journalism pieces at an introductory journalism course? Likely not. This might be something students in a political reporting class could tackle as a follow up to this course.
Conclusion
Feedback from students on this project in their final presentations was positive. They learned more about the city of Trenton and felt they learned many new writing and collaboration skills while contributing to their community.
The client, Beautiful Trenton, was pleased with the site and talked to us about the possibility of doing a similar countywide site. That site would be similar to http://www.votesmart.org/ (which is the closest site to trentonvotes.com in terms of content).
A Mercer County site could cover all municipal officers and elections as well as state legislature and county races (freeholder, sheriff, etc.). It could provide a real community service, but would need Bonner scholars or another group to provide continuity. (S. Slusher, personal communication, May 19, 2014)
But should a future project of this magnitude be carried out, it would have to be in collaboration with computer science students studying database design and software engineering, in order to ensure proper technical design, robustness and security.
While such projects are time-consuming for the instructor to plan and execute, they can produce tangible results for the community partner and valuable learning experiences for students. They also provide a model for other undergraduate courses such as political reporting, hyperlocal reporting or urban reporting. We envision a beat reporting class working alongside a nonpartisan organization with deep subject matter expertise and community knowledge, to do in-depth reporting. One of the authors is currently engaged in such a teaching collaboration—a course in health and environmental journalism in which students work alongside computer science students and the Trenton chapter of Habitat for Humanity to produce Students Organized Against Pollution (SOAP), an information system about contaminated properties in Trenton.
During the 2014-15 school year, the instructors again taught individual sections of the Writing for Interactive Multimedia class. Community engaged learning is a component of other courses that each of us is teaching. We are looking for suitable community engaged learning projects for future semesters of the Writing for Interactive Multimedia class.
Kathleen Webber is an assistant professor at The College of New Jersey and Kim Pearson is an associate professor at The College of New Jersey (correspondence: webber@tcnj.edu or kpearson@tcnj.edu).
References
Addams, H., Woodbury, D., Allred, T., &  Addams, J. (2010). Developing student communication skills while assisting non-profit organizations. Business Communication Quarterly, 73(3), 282-290.
Beautiful Trenton [website]. (2015). Retrieved from https://beautifultrenton.wordpress.com
Bonner Institute for Civic and Community Engagement. (n.d.). About us [webpage]. Retrieved from http://bonner.tcnj.edu/about/
The College of New Jersey. (n.d.). Mission [webpage]. Retrieved from https://tcnj.pages.tcnj.edu/about/mission/
The College of New Jersey Center for Institutional Effectiveness. (2012). Facts & institutional figures. Retrieved from http://cie.tcnj.edu/reports/fact-book/
Mangan, K. (2009, September 21). Stop the presses! Stop the presses! Revamped journalism courses attract hordes of students. The Chronicle of Higher Education. Retrieved from http://chronicle.com/article/Stop-the-Presses-Revamped/48497/
Mensing, D. (2010). Rethinking (again) the future of journalism education. Journalism Education, 11(4), 511-523.
Moody, M. & Burleson, C. (2013). Using serviced based collaborative teaching in journalism courses. Teaching Journalism and Mass Communication, 4(1), 1-17.
Novek, E. (1999). Read all about it! Using civic journalism as a service-learning strategy. In Droge, D. & Murphy, B. (Eds.). Voices of a strong democracy: Concepts & models for service-learning in communication studies (pp. 145-154). Sterling, VA: Stylus.
Taylor, S. S. (2006). Assessment in client-based technical writing classes: Evolution teacher and client standards. Technical Communication Quarterly, 15(2), 111-139.