Sarah Maben
Abstract: Students in an Introduction to Mass Communication course decided they wanted to help their campus reflect on its dependence on social media and mobile devices after reading Neil Postman's Amusing Ourselves to Death. The class of 40 created a campaign asking campus members to pause, or take time away from their devices and social media, for a study break. The impromptu exercise required students to call on the concepts from the intro class and act upon them in the real world. The article outlines the project and its assessment, the campaign's results, and potential lessons that could be incorporated in similar exercises.
---
When students in my Intro to Mass Communication course showed an interest in "doing" something about their generation's dependence on technology, I thought we better seize the day. As part of the class, they read Neil Postman's Amusing Ourselves to Death, and this semester they were particularly riled up! Each semester, the class connects with the 30-year-old text about how television and its silliness would have a lasting impact. They read it now with a social media lens, looking at how every mention of television could be substituted with today's language of social media. Reactions range from disgust with themselves and their generation for how "silly" they are becoming because of social media/device dependence to how empowering social media and technology can be with regards to access and information.
To test the "silliness" factor, I ask students to abstain from using their phones on their ways to their destinations after our class—maybe a 10-minute hiatus from their devices. (A 24-hour fast is an option, but I have found the 10-minute test makes the same point, and is less painful.) As soon as they reach their destination, they report on our class Facebook group. First, did they make it? Second, how did they feel about it? And lastly, what did they observe when not on their devices? Students typically talk about the "itch" to grab their phone and the willpower needed not to check the device. Others run to their next destination, or find quicker routes on campus—to minimize TWD, Time Without Device.
This spring semester, students reported how disconnecting for the 10 minutes freed them. They smiled at people on campus, walked without bumping into others, and even extended the time limit. One even forgot about her phone for the rest of the day. Class discussions about the exercise and Postman's book were laced with an undercurrent of activism. The students felt that something needed to be done, and I was excited to see what they could inspire on campus using their communication skills.
After a mini-brainstorming session during class, the 40 students decided they wanted to show our campus how much they could gain from taking a break from their phones/technology/social media. Instructionally, a campaign would tie together many of the concepts they were learning in the intro class, and expose them to a real-world project in the first-year course.
Our first plan of attack was to use the UNICEF tap project as a motivator. You bank servings of clean water for those in need for every minute you refrain from touching your phone. After a beta-test, we figured out the water campaign was finished, and it would be only a hypothetical exercise. The beta-test was important; in our excitement to launch a campaign, we almost bypassed this step and could have been very embarrassed with a defunct project.
It was a small set-back, but the students rebounded with a campaign to help students study without their phones distracting them. On their devices, they looked for apps that monitored phone use, or limited access. App cost, ease of use and access on multiple platforms were considered. The Pause app was the best product they found to immobilize your phone with a timer, so you can devote time to other tasks. The app is free for iPhone and Android. The lack of a Windows version was debated, and ultimately students decided that more of their peers used iPhone and Android systems. This was based on an informal poll in our class. In a perfect world, they would have conducted more rigorous research for this decision—a point we discussed in class.
Students divided tasks into subcommittees: Fliers, graphics and memes; media relations; videos; radio ads; Twitter team; partnerships and personal contacts and the foot patrol.
Fliers: The team crafted a flier that was distributed via social media, mass email messaging on campus and physically handed out.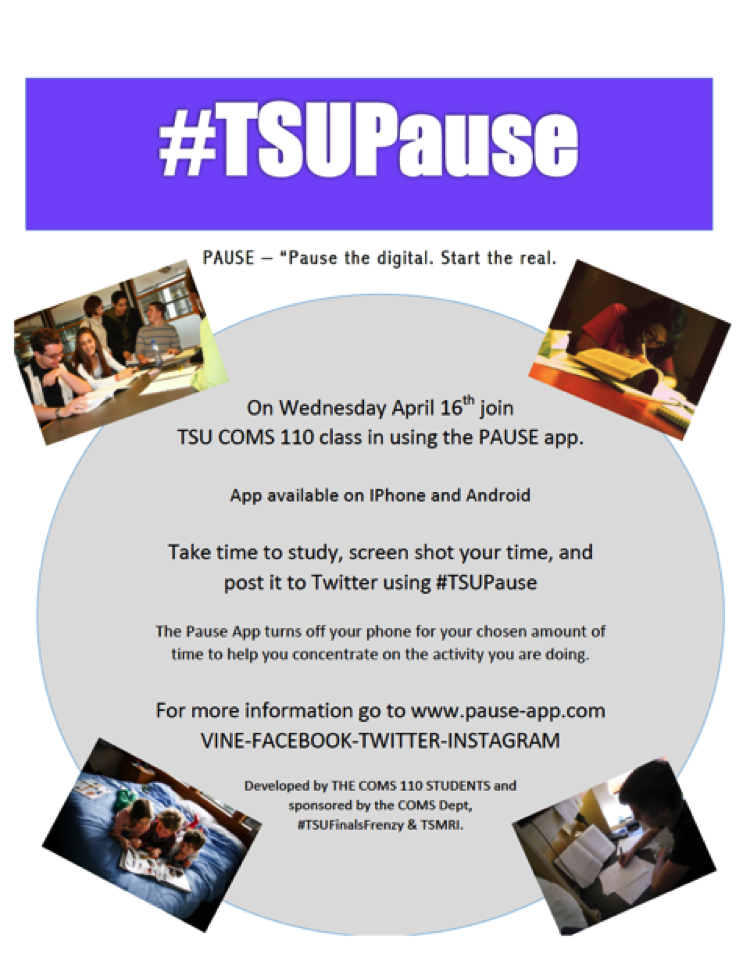 Graphics and memes: The team members used meme creators on their devices to develop memes for the campaign.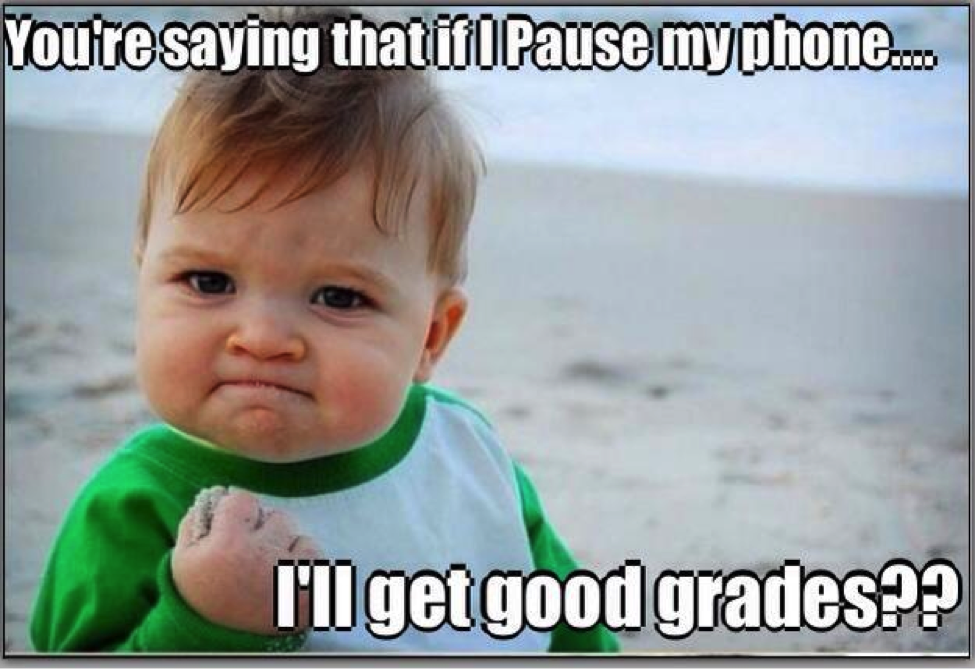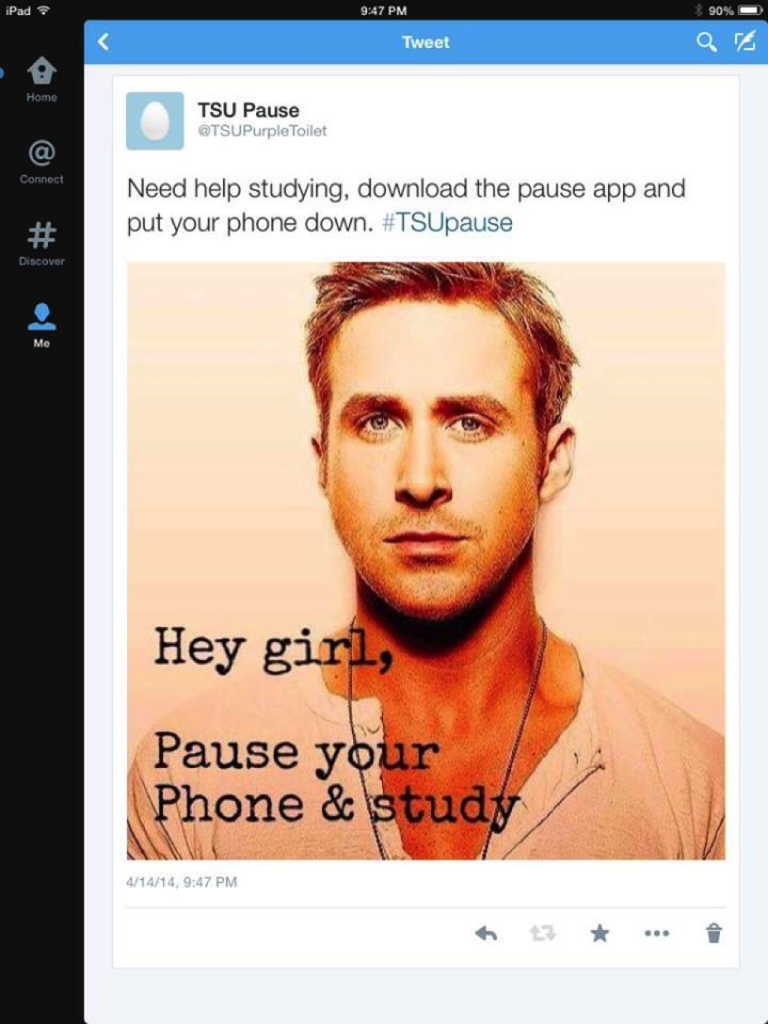 Media relations: The team spread the word to a campus newspaper outlet and radio station.
Radio ads: The team wrote and recorded a radio ad that was broadcast leading up to the event on the campus station.
Twitter team: The team reworked an existing Twitter account for the campaign and was responsible for tweeting and retweeting from the campaign's account (@TSUPause). http://www.twitter.com/tsupause
Video team: This team shot Vines and videos for Instagram. https://vine.co/v/MJwlEFr73b7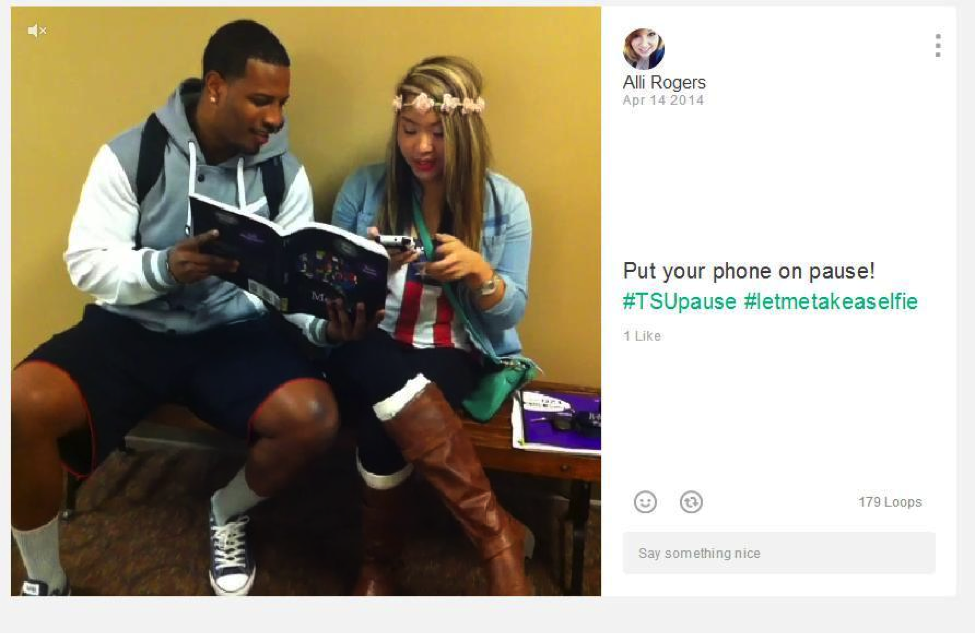 Personal contacts: The team spread the word to influential (in and out of social media) students, faculty, administrators and staff on campus. This also included creating partnerships to amplify our efforts. The office of Student Success and Multicultural Initiatives agreed to partner and tweeted using our hashtag.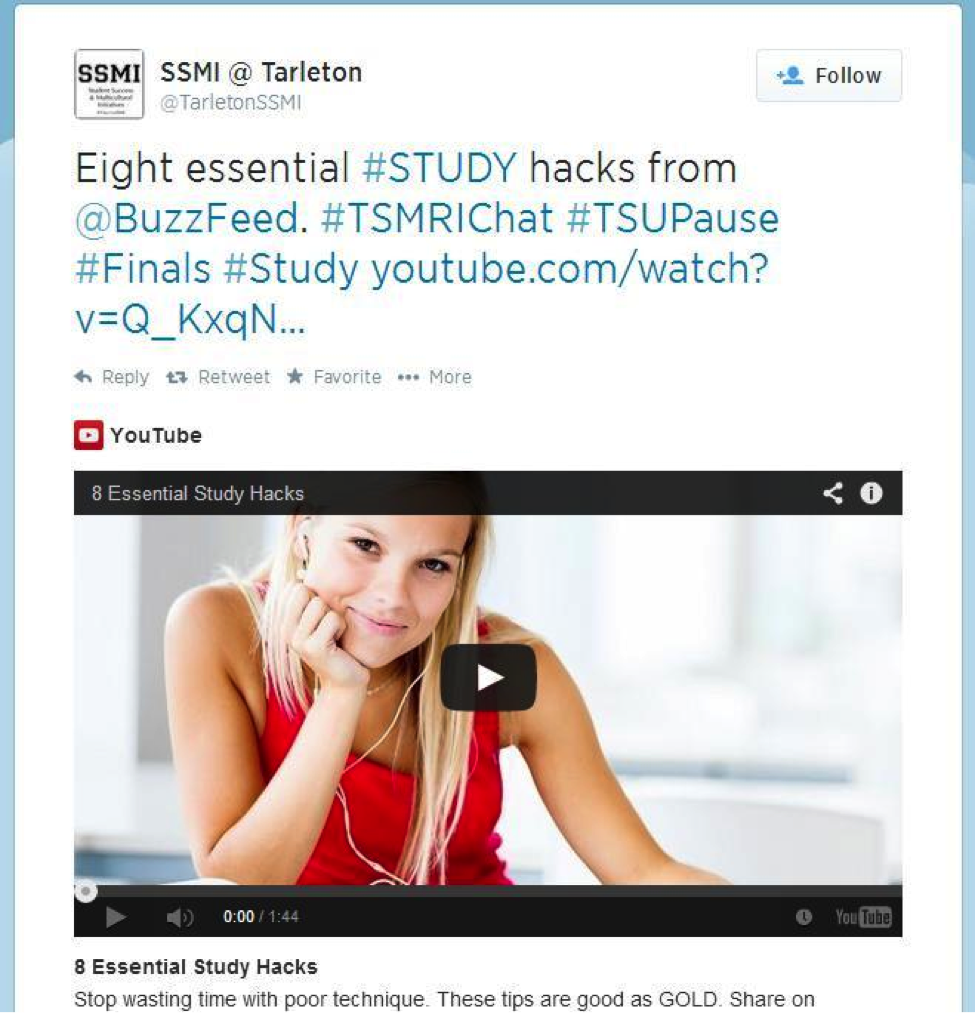 Foot patrol: This team hit campus on campaign launch day, handing out fliers and asking people to "pause." They also made announcements in their other classes and meetings.
About 15 minutes of three class periods were used as collaborative time, where the groups could coordinate efforts and share information. Outside of class, our Facebook group was used for decision-making and dissemination. Students decided on their hashtag (#TSUPause), and constructed sample tweets, Vines and memes. They picked Wednesday, April 16 as their Study Day (main day for the campaign). They asked people to use #TSUPause to contribute their minutes/hours paused so the students could tally and evaluate the campaign's success.
A Student-Led Campaign
While I helped facilitate discussions and the decision-making process, the campaign was student-led. My contributions included leveraging my association with the Texas Social Media Research Institute with a special blog post seeking participation: http://tsmri.blogspot.com/2014/04/support-mass-comm-students-on-april-16.html. I offered the opportunity for students to write the blog post, but did not receive any volunteers. In a pinch, I wrote the piece, but would have a student accomplish this task in future iterations. Like the students, I leveraged my personal social networks to help spread the word about the project.
Students reached out to campus administrators as potential partners, and I handled the follow-up communication. This partnership really helped because we were a bit of a rogue group that didn't want to fill out official student organization paperwork. We ended up with four official partners: Tarleton's #FinalsFrenzyCommittee, Department of Communication Studies, Student Success and Multicultural Initiatives and the Texas Social Media Research Institute.
Results
The class wanted to clock the amount of hours our participants "paused," but we settled for an analysis of the social media activity created by the campaign. Our goal was 100 social media mentions. This target was derived from a class discussion and was somewhat arbitrary. We had little data on how campaigns on campus had fared in the past.
Two highlights were when the official Pause app Twitter account began retweeting our campaign and our university president joined in. Tarleton State's president tweeted, "Sounds difficult, but oh so worth it! What do you think @tarletonstate ? #TSUPause (pause-app.com)" with a picture of the campaign flier.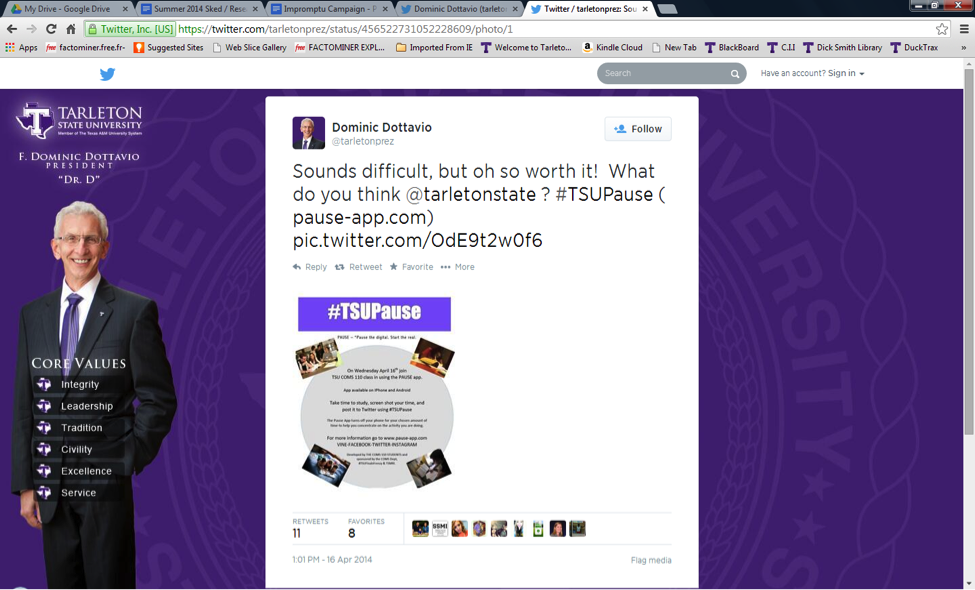 We used a pre-programmed Google Document to capture the tweets from @TSUPause and #TSUPause. We used a template from http://mashe.hawksey.info/twitter-archive-tagsv5/, which automatically updates and provides a dashboard with analytics like the number of tweets, retweets, and top tweeters.
| | |
| --- | --- |
| | Google Document Collector for @TSUPause and #TSUPause |
| No. of tweets | 54 |
| No. of retweets (RTs) | 44 |
| Top tweeter | @TSUPause |
| Links | 39 |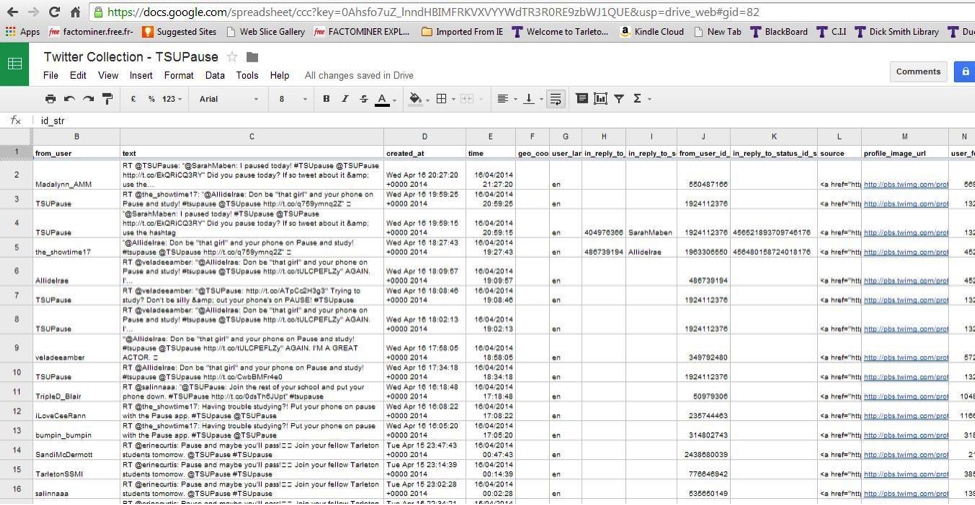 Tweets included videos, memes and calls to action to participate. A few examples are below:
Need help studying, download the pause app and put your phone down. #TSUpause @TSUPause http://t.co/4rNL49GP63
Pause and maybe you'll pass! Join your fellow Tarleton students tomorrow. @TSUPause #TSUpause
Having trouble studying?! Put your phone on pause with the Pause app. #TSUpause @TSUPause
In addition, students tried www.topsy.com as a way to evaluate their campaign. The free web-based system shows social analytics and exposed students to another way to measure social media. While not a full-blown evaluation stage, we talked about how you must plan for what you are going to measure. 
Anecdotally, both the students and I heard feedback from our peers. I received emails saying that the campaign seemed like it was really taking off, and students were chatting about it in classes.
Potential Lessons
The @TSUPause activity provided an integration of many concepts students were learning and gave them a real-world example that they could tie future lessons in their next communication courses:
Communication models in practice: Students learned about interpersonal communication and mass communication, and models of each. The campaign combined both strategies.
Convergence: A recurring theme for the semester, students were able to see the overlaps of technological convergence.
Audience: Students had to craft messages for particular audiences and think about how to best accomplish this.
Persuasion techniques: Engaging others to participate was key. Students had to brainstorm on how to move someone from simply reading the tweets or watching the Instagram video to using the app to Pause themselves. The call to action was paramount.
Campaign process: The class includes students studying journalism, communication studies and public relations. For some, this was their introduction to the Research, Action/Planning, Communication, Evaluation process.
Working with different media: Students dabbled in making radio announcements and video segments for the campus newspaper. Some first-year students in the course had not yet connected with the student-run media enterprises, and this gave them a safe, low-stakes introduction.
Proper use of images (Creative Commons): During the semester, one of our librarians leads a class session where she teaches students about copyright and ways to secure images to use legally and ethically. Students used this information to craft their designs.
Conflict of interest: When students involved in campus student media offered to pitch story ideas to their outlets, we talked about how they couldn't be a part of the story creation or editing.
Social media analytics (Google and Topsy): When I showed them tools for analysis, many were surprised at the information we could capture through free services. We talked about how analysis is integral to social media management and careers in that area.
Resource management: Students started with no budget. Through partnerships, they were able to cover the costs of making fliers. Another obstacle was the size of their class; 40+ is a large group for decision-making and coordinated execution. They used a class Facebook group to communicate between teams for a more seamless campaign, much like they would do in an agency setting.
Assessment
Students were asked to evaluate their contributions to the project in a reflective writing exercise during class, as well as suggest how many points they deserved from 1-5 points to be added as extra credit to their course grade. Students received the points they suggested, unless they were too modest in their evaluation.
The impromptu nature of this project means I did not secure Institutional Review Board approval in time for a true analysis of their responses that could be reported. Generally speaking, students were in awe of how a group that size could *do* something.
From a professor's perspective, students who were generally reserved during the rest of the semester really chimed in during class discussions about our campaign. A camaraderie developed and students seemed to use each other's names more in discussions. One student even used her experiences to garner an internship with a social media group on campus.
The dynamics and underlying current of activism of this particular group of students are what led to this impromptu campaign. The organic nature of the project made it exciting for them, and me, to watch. My goal was simply exposure to the campaign process and to show communication in action, rather than a full-blown campaign. I hope it offers an experience with which students can connect future experiences.
Links
@TSU Pause Twitter account—https://twitter.com/tsupause
Topsy results for #TSUPause—http://topsy.com/s?q=%23TSUPause
Video—http://instagram.com/p/m29AaSnq35/
Sarah Maben teaches at Tarleton State University (correspondence:  maben@tarleton.edu or @SarahMaben on Twitter).