Some of Newspaper Division website saved at Archive.org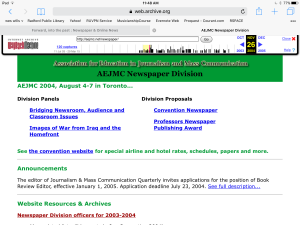 In case you haven't noticed, technical difficulties have brought about the demise of the AEJMC.net domain, most of which has migrated to WordPress sites here at AEJMC.us
However, the closing of non-WordPress hosting means the division's long-standing site at "http://AEJMC.net/newspaper" is no longer online. That also means we have lost access to several years of email listserv discussions and LeadTime PDF files.
The good news: The LeadTime files were backed up elsewhere, and the Internet Archive's "Wayback Machine" service did take snapshots of the site's HTML pages from time to time; those can be accessed here:
https://web.archive.org/web/*/Aejmc.net/newspaper
(I have also replaced the link to the original site on our page menu with that archive.)
The old site, begun in hand-coded HTML, succeeded early attempts by division officers to give the division a Web presence via whatever Web servers were available on the campus of that year's officers. ("LeadTime" back then was a printed-and-mailed newsletter.)
An online discussion including Randy Reddick at Texas Tech and yours truly, then in transition from Emerson College to The University of Tennessee, concluded that a stable division address at an independent domain would be a better solution than changing the division site's address annually. Randy expanded on the idea, creating the AEJMC.net domain, open to all divisions, with the Newspaper Division as one of the first users.
Over the years, the site included convention news, essays by officers and photo albums from division events. This WordPress site, originally AEJMC.net/news, was added in 2009 to allow easier access by more than one contributor, and was moved to its current address at AEJMC.us/news in 2013 after the original domain server ran into malware problems.
Unlike some other divisions' pages, the old AEJMC.net/newspaper site had not been damaged and continued until this year as an archive of past division activities, back copies of LeadTime as PDF files, and links to an archive of division listserv discussions — including the robust conversation about adding "Online News" to the division's name. (Personally, as a veteran of the Raleigh News & Observer's pioneering NandO.net, 1994-1998, I always felt "newspaper" included "online," as well as finding the shorter division name easier to fit into a page heading.)
Unfortunately, we could not maintain all page-to-page links to original AEJMC.net/news articles when we moved to the new server, but our dated archive links, keywords and "search" function should be able to locate anything written in the past six years. For example, here is my inaugural post linked to an archive of my previous AEJMC-related blog:
Teaching an old blog new tricks
If research or nostalgia inspires anyone to want more of the old Newspaper Division website, let me know. As its webmaster for a decade, I did keep a personal backup copy.
FOOTNOTE: Related Sites
The current officers made some use of Facebook at the August convention, prompting quite an improvement in participation over earlier attempts at a division Facebook page four or five years ago. Our page at https://www.facebook.com/newspaperandonlinenews now has almost 200 "likes." However, some journalism professors do not "like" Facebook and refuse to use it. Perhaps the new Web editor or a designated hitter can mirror Facebook news posts here on the division's main site. For now, I've added a Facebook link to the Related Sites menu on this page. If this post of mine is still the top thing here in October, be sure to check for division news on Facebook!
We are also on Twitter, news industry professionals' other popular social media site, as http://Twitter.com/aejmc_nond, so that is on the "Related sites" list too.
And, with Sage Publications having taken over publishing Newspaper Research Journal, that division-affiliated journal has a Sage webpage address, which I've also added to the Related menu.
TRANSITION
Anyone browsing the 2009-2010 blog archives will see that we did, for a while, use this site to record industry trends and attempt to launch discussions, but both editors wound up unable to attend AEJMC conventions and promote the idea.
Officers and members for a time preferred using email listserv software for discussions, but changes in technology at the hosting company caused that service to be abandoned earlier this year. A Google Groups mailing list is currently filling the announcement-mail role.
Shortly, Chad Sherman of Waynesburg University will log in as this site's new primary editor. Here's wishing him all the best at defining its future and its relationship to the division's newsletter and social media sites… I'll still be around to answer questions, but look forward to having Chad and the current Division officers take charge of the group's "…and online" future.
Retiringly,
[Updated and edited, with several menu and link additions, Sept. 26]