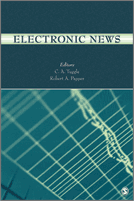 Electronic News will devote a special issue in 2017 to the current political season, offering researchers an opportunity to use appropriate methodologies to explore media conte
nt and message dissemination. The deadline is Dec. 31, 2016.
In this special issue, which will be published in late 2017, researchers are invited to examine any aspect of media coverage of the 2016 political season. Manuscripts may focus on any of the following issues, or others not listed here: 1. A content analysis of the two likely major party candidates on local, national or cable television news programs; 2. An examination of one or more over-the-air or cable network's coverage of the primary season; 3. The use of social media by news organizations in their political coverage; 4. Coverage of "the other;" 5. The (over-)reliance on polls as a substitute for issue-focused coverage. Manuscripts must be double-spaced, use 12-point Times New Roman font and be no more than 15-18 total pages. Any manuscript that does not meet these requirements will NOT be considered for publication.
Submit your manuscript at http://mc.manuscriptcentral.com/enx
Questions should be addressed to Electronic News co-editors Anthony Moretti (moretti@rmu.edu) or Bob Papper (bob.papper@hofstra.edu).