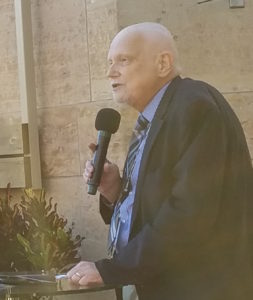 Professor Gary Hanson of the School of Journalism and Mass Communication at Kent State University was awarded the 2016 Edward L. Bliss Award for Distinguished Broadcast Journalism Education on August 5 in Minneapolis.
The award was presented to Hanson on the rooftop of WCCO-TV  at the Electronic News Division's social during the 2016 AEJMC conference.
The Bliss award is presented annually by the Electronic News Division of the Association for Education in Journalism and Mass Communication (AEJMC) to recognize significant and lasting contributions to the field in the areas of teaching, scholarship, and service.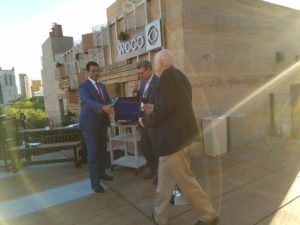 Professor Hanson teaches in the areas of electronic journalism and mass communication,. His career spans more than 40 years as a broadcast professional and educator, beginning at a 1000 watt NPR affiliate in North Forks, North Dakota. Hanson spent more than 25 years in local news before moving full time to education at Kent State.
His former colleague, Mona Alexander, recalls Hanson as a gifted mentor.
"I am a better news director because Gary Hanson was my News Director," she wrote in her letter of support. "it's with humility that I feel I am helping to develop the minds of young journalists, something I wouldn't have had the talent or courage to do without my long-tim association with Gary. Imagine! His dedication to training young journalists has had an impact on people he never even had in the classroom."
Thor Wasbotten, Director of Kent State's School of Journalism and Mass Communication, presented Hanson with the award, along with WCCO-TV news anchor Frank Vascellaro. In his letter of nomination, Wasbotten wrote of a influential teacher, a dedicated scholar, and a colleague who offers service to the academic community at Kent State and beyond.
"But above all else, Gary has accomplished this without compromising his principles and values of being compassionate, thoughtful, the highest integrity and an genuine appreciation for others," he wrote. Plus, he added,"He deserves it."
Hanson's list of service to the academy is long. It includes judging numerous awards, acting as a reviewer for textbooks and journals articles, serving as a member of the Accrediting Council for Education in Journalism and Mass Communication, and currently serving as the selection committee chair for the Larry Burkum Public Service Award, given by the Electronic News Division of AEJMC.
Hanson served a Division Head for what was then known as the Radio Television Journalism Division of AEJMC (now the Electronic News Division) from 2009-2010, and chaired the Radio Television News Director's Association in 1992. He was awarded the Larry Bunkum Public Service Award in 2013.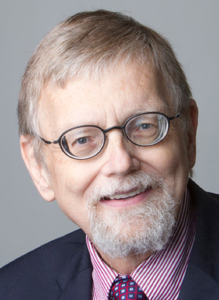 At Kent State, Hanson developed the popular International Storytelling class, where he takes students to locations around the world to learn how to tell stories in a foreign environment. He's travelled with students to China, India, Brazil, and, this past spring, Greece. Kent State alum Nathan Edwards considers himself lucky to have been hand-picked to travel to India as part of the International Storytelling cohort. "When you're in Gary Hanson's class, it's not just a class," he wrote in his letter of support. "It's an experience full of memories."
It's also an experience that continues long after the students have left the classroom. Kent State alum Julie Bercik wrote, "All these years later, my college professor is still teaching me things, whether it is different angles for stories, tips on how to do a better live shot or critiquing my reporter packages; I value and respect what he tells me."
Colleagues similarly describe a generous and creative collaborator. "Gary has been a role model for me and others on the JMC faculty because of his thoughtful consensus-building and his wise council on matters ranging from course outcomes to student success," writes Kent State colleague Jan Leach. Kent State School of Communication Studies Director Paul Haridakis agrees, praising Hanson's leadership in both the University as well as AEJMC and other scholarly organizations: "Few scholars excel in as many endeavors as does Gary."
Hanson is the author of numerous journal articles and book chapters. In his spare time, he holds workshops for broadcast professionals on using innovative software within video production. He's received nearly four dozen awards and grants for his various research and creatives projects. He designed and created an online portal for the course Media, Power, and Culture, as well as for several other courses.
Hardakis notes, "Clearly, his School, College, University, AEJMC, and, most importantly, his students have benefitted from Gary's broad base of professional knowledge and research acumen." Or as former student Katie Morse said in her letter of recommendation, "I attribute any success I've had in my career thus far to his teaching, and consider myself lucky to have learned from one of the best."
Hanson received his M.A. in Media Management from the School of Journalism and Mass Communication from Kent State University in 1999. His BA, from the University of North Dakota ,was granted in 1973.
The distinguished broadcast journalism educator award is named for Edward L. Bliss, a long-time writer, producer and editor for CBS News. Bliss was known for his work with Edward R. Murrow and Walter Cronkite and ended his career as an educator at American University, which now houses the plaques bearing the award winners' names.
Past winners of the Bliss Award (formerly Distinguished Broadcast Educator Award) are: Jack Shelly, Iowa State (1983); Ed Bliss, American University (1984); Dick Yoakam, Indiana (1985); Henry Lippold, Wisconsin-Eau Claire (1986); Rod Gelatt, Missouri (1987); Mitchell Charnley, Minnesota (1988); Don Brown, Arizona State (1989); Irving Fang, Minnesota (1990): Ernest F. Andrews, Syracuse (1991): Al Anderson, Texas- Austin (1992): Michael Murray, Missouri-St. Louis (1993); Joseph R. Dominick, Georgia (1994): Gordon Greb, San Jose State (1996); Travis Linn, Nevada-Reno (1997); Vernon Stone, Missouri (1998); Elmer Lower, ABC, NBC (1999); Ken Keller, SIU-Carbondale (2000); Lincoln Furber, American University (2001); James Hoyt, Wisconsin (2002); Phillip O. Keirstead, Florida A&M University (2003); Thomas Griffiths, Brigham Young University (2004): Peter Mayeux, University of Nebraska (2005); Bill Knowles, The University of Montana (2006); Jim Upshaw, The University of Oregon (2007); Glenn Johnson, Washington State University (2008); Sam Swan, University of Tennessee (2009); Phillip Jeter, Winston Salem State University (2010); C.A. "Charlie" Tuggle, University of North Carolina Chapel Hill, (2011); Robert Papper, Hofstra University (2012); William Davie, the University of Louisiana Lafayette (2013); Mary Rogus, Ohio University (2014); and Mark Harmon (2015)