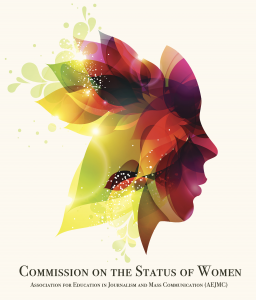 We are delighted to announce this year's CSW award winners who will receive their prizes during the annual AEJMC conference, which this year takes place in San Francisco August 5-9.
Tania Cantrell Rosas-Moreno receives this year's Mary Ann Yodelis Smith Award for Feminist Scholarship. The award recognizes feminist scholarship that has the potential to make significant contributions to the literature of gender and media. First presented in 1995, it honors Mary Ann Yodelis Smith, a past president of AEJMC and long-time advocate for women in the academy. $500 are awarded to the winner.
Mia Moody-Ramirez receives the CSW Outstanding Woman in Journalism and Mass Communication Education Award. This award honors a woman who has represented women well through excellence and high standards. $100 are awarded to the winner.
Stine Eckert receives the Donna Allen Award for Feminist Advocacy. The Donna Allen Award recognizes feminist advocacy by a woman or group. This award honors Donna Allen, founder of the Women's Institute for Freedom of the Press in Washington, D.C. $100 are awarded to the winner.
Danielle Kilgo receives the Mary Gardner Award for Graduate Student Research. This award is designed to fund research that has the potential to make an excellent contribution to the scholarship on women and journalism and mass communication. The award honors Mary Gardner, professor emeritus at Michigan State University and the first woman elected president of AEJMC. $250 are awarded to the winner.
Congratulations to all who won! Join us at CSW's business meeting at the AEJMC Annual Conference in Minneapolis on Friday, August 5, 2016 at 8.30 pm where we will hand out all the awards.